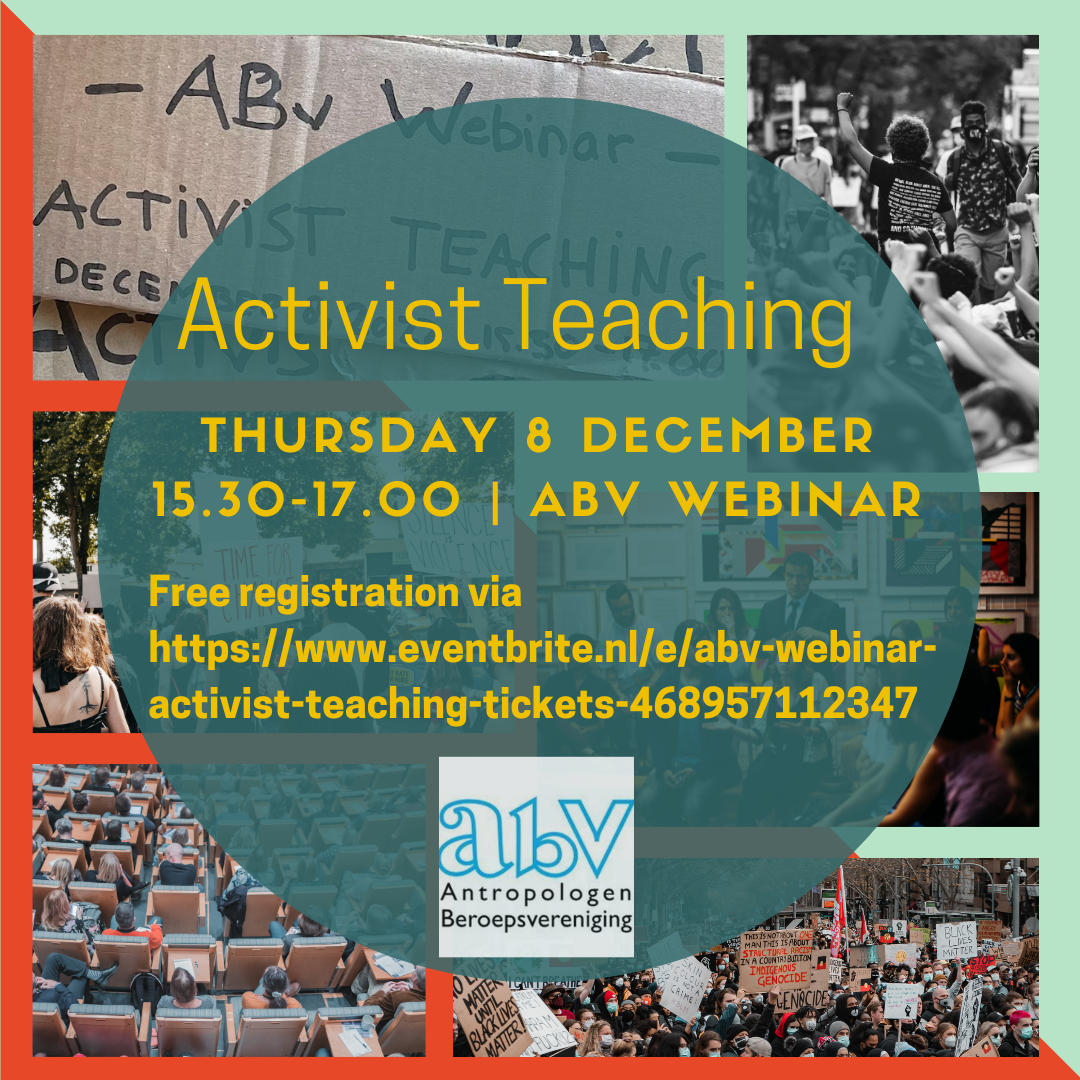 On Thursday 8 December 2022, ABv organises a webinar on Activist Teaching.
How to infuse students with hope and agency, when teaching about issues of injustice, privilege, and power? How to make options for counterhegemonic action visible in the classroom? Can teaching be a way of doing activism? How can reflexive learning be an avenue for developing "the self" as a site for social change?
This webinar brings four scholars together to explore these questions related to how "activist teaching" can be a way of engaging with feelings of powerlessness that students sometimes encounter when dis­cussing issues of injustice, privilege, and power. Activist teaching combines teaching to think critically about macro-level issues with teaching strategies for social change and engaging in specific, concrete, and tangible forms of direct action. In addition, its commitment to consistent self-reflection is a promising avenue to develop "the self" as a site for social change. In this webinar we explore how such reflexive, critical, and transformative forms of learning and teaching can be practiced and experienced within the walls of the (neoliberal) university.
If you – lecturers, educators, students, activists – are interested in the different dimensions of activist teaching as a way of bridging theory and action, please sign up for the webinar here. The webinar will take place in an informal Zoom setting and there will be enough space and time for questions and exchange.
Speakers:
– Ozan Alakavuklar (Utrecht University, The Netherlands)
– Hanne Bess Boelsbjerg (Aarhus University, Denmark)
– Lina Katan (Aalborg University, Denmark)
– Michiel Köhne (Wageningen University, The Netherlands)
Chair: Elisabet Dueholm Rasch (ABv and Wageningen University, The Netherlands)