De antropologengemeenschap staat niet stil! Elk voorjaar organiseert de ABv de Dag van de Antropologie. Af en toe organiseert de ABv ook andere evenementen, zoals webinars. Wil jij jouw antropologie-gerelateerde evenementen promoten? Of zou jij willen bijdragen aan een volgend webinar? Stuur een mail naar webredactie@antropologen.nl.
---
Anthropological Perspectives on Growth and Degrowth
The Dutch Anthropology Association (Antropologen Beroepsvereniging; ABv) organises a webinar with anthropological perspectives on growth and degrowth. The webinar will take place on Thursday 30 March 2023, 15:30-17:00 (GMT+1). Click HERE to register for the webinar (or paste this link to your browser: https://www.eventbrite.nl/e/anthropological-perspectives-on-growth-and-degrowth-tickets-574490064247). Registration is free, you will receive a link short before the 30th.
Since the publication of the 'Limits to Growth' report some 50 years ago, the desirability of economic growth has been a topic of fierce dispute. Although the growth conundrum has long triumphed these debates, this has started to shift over the recent years. Academics and politicians seem to have fallen out of love with economic growth as panacea for development and growth is increasingly being villainized in relation to the multiple environmental crises, especially climate change. At the same time, calls to move beyond economic growth are gaining popularity among academics, social movements and policy-makers. Particularly degrowth is well under way to consolidate as a vibrant field of inquiry, a movement and a community of practice.
In the light of these events, we ask what this may imply for the work of anthropologists. How do they engage with the conceptual body of degrowth and the degrowth movement? What unique theoretic, methodological and political contributions can anthropology make to a post-growth society? How to deal with the ongoing importance of growth in the many contexts anthropologists research? What could a sustained engagement with and theorization of growth look like in such contexts? In this webinar, we invite scholars focusing on economic growth and/or degrowth to discuss these and other pressing questions.
Guests:
This webinar will be moderated by Karolien van Teijlingen, postdoctoral research fellow at the Department of Anthropology and Development Studies, Radboud University Nijmegen and board member of the Dutch Anthropology Association.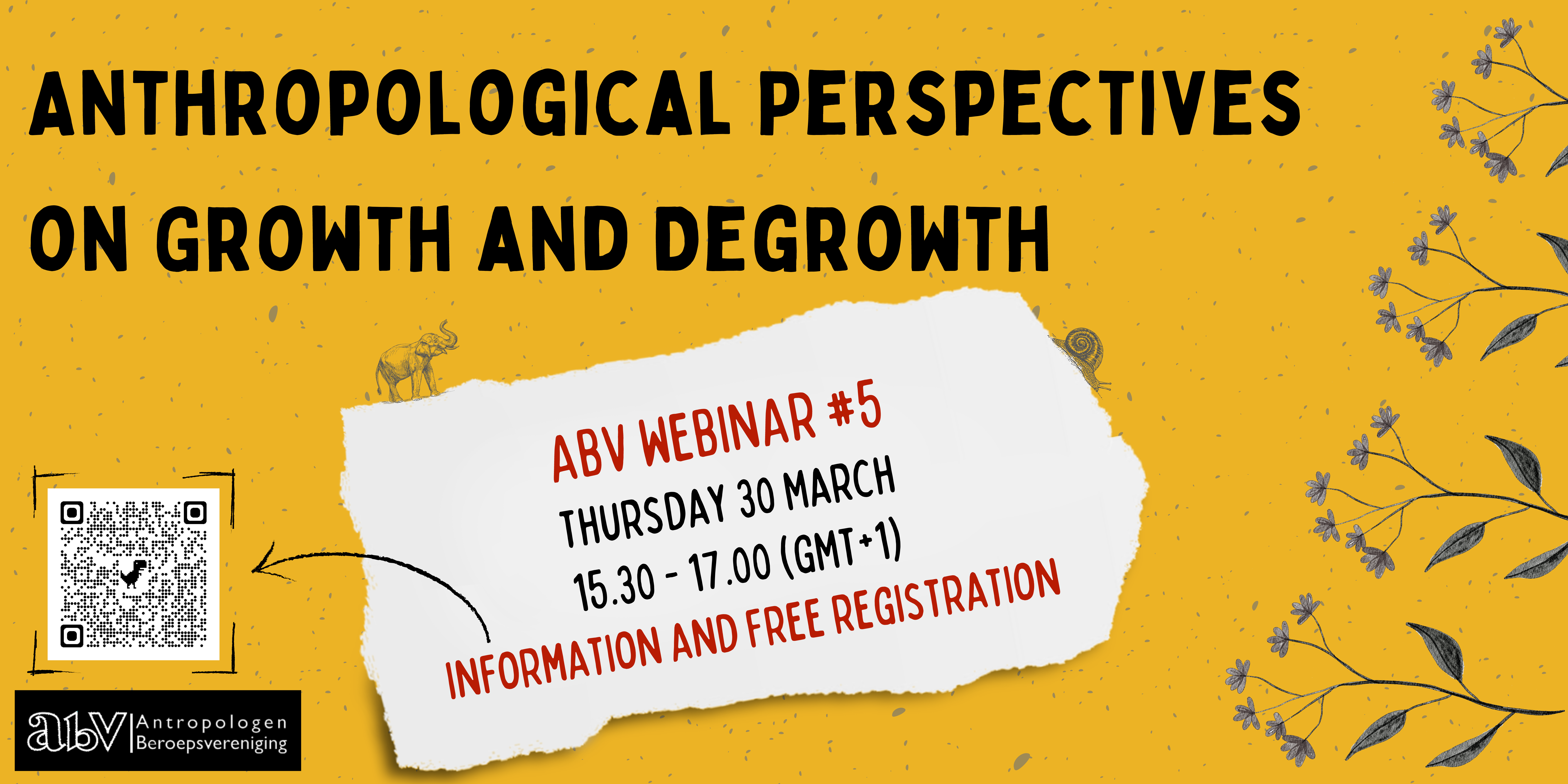 ---
Anthropology Day 2023: Reimagining the Digital
On Friday 12 May 2023, the Dutch Anthropological Association (ABv) organizes its annual Anthropology Day. This year's theme is 'Reimagining the Digital'. The Anthropology Day will take place in Museum Volkenkunde, Leiden. Save the date!
Digital technologies have become matters of life and death. We live at a time when robots and AI systems assist in medical diagnosis and elderly care, while remote-controlled drones and targeted online propaganda can influence the outcome of a war. Algorithms not only carry out government tasks but also steer the news we read and the people we befriend. Virtual Reality enables us to build and discover new worlds and imagine different futures. The "cloud" requires material infrastructures that increasingly reshape landscapes and environments, from water-cooled data centers to undersea cable networks. As digital technologies mediate ever larger parts of our lives, responses to them range from embrace to resignation and rejection.
Beyond such optimistic and dystopian visions, anthropologists have developed critical approaches to the study of these human-technology entanglements. Anthropologists—in dialogue with science and technology studies, media studies, critical data/algorithm studies, and allied fields—are well suited to investigate the interface between humans and digital technologies. Ethnographic methods can reveal how the interactions between humans and technologies play out in practice, critically analyzing how digital technologies may perpetuate and amplify existing power imbalances. Anthropologists study how diverse groups of people—including activists, hackers, scientists, engineers, and concerned "users"—have subverted, appropriated, reprogrammed and 'decolonized' these technologies.
Anthropological research thus offers fruitful methods for the urgent task of reimagining "the digital." At the Dutch Anthropology Day on 12 May 2023, we will discuss some of the ways in which anthropologists explore, employ, and are part of human-technology entanglements. We ask the following questions:
How are anthropologists providing new insight into and reimagining "the digital"?
What can ethnography contribute to efforts to design and develop more socially just or equitable systems? What might it mean to "decolonize" the digital?
How does digitization affect our own work as anthropologists?
Stay tuned for more information!
---
Radboud University ADS Conference 'Navigating Change'
27-28 June, check out the Save the date & call for participation.
---
Terugkerende meet-ups
EthnoBorrel evenings offer networking with other professional ethnographers and people who want to work with ethnography. You can present your work, seek advice from peers, discover opportunities, advance your skills, and link up with broader global networks. EthnoBorrel was founded by Erin Taylor and Gawain Lynch in December 2017. Our inspiration was the "ethnobreakfasts" held in the USA and the Ethnographic Praxis in Industry Community (EPIC), which work to forge stronger connections among professional ethnographers, and between ethnographers and industry.
Interbuilding Applied Anthropology Meetup – How do we interbuild applied anthropology: building on each other and building the discipline? Corina Enache, Rosalie Post and Anna Aris are the organizers of meetups for applied anthropologists. In these meetups we: a) share experiences of applying anthropological thinking and working in various fields outside academia, b) think and learn together, ask and provide practical advice and support to each other, c) use the knowledge produced in the group to support the shaping of a "toolbox" for applied anthropology.
---
Archief ABv evenementen
---
Via onze Facebook– en Instagrampagina blijf je op de hoogte van actuele discussies, de laatste evenementen, nieuwe boeken en films en nog veel meer. Op ons YouTube-kanaal kan je webinars terugkijken en de 'Antropologen @ Work' blogreeks beluisteren. Interessante vacatures kun je vinden in onze LinkedIn-groep bedoeld voor antropologen. Schroom niet om zelf een bijdrage te delen!