De antropologengemeenschap staat niet stil! Elk voorjaar organiseert de ABv de Dag van de Antropologie. Af en toe organiseert de ABv ook andere evenementen, zoals webinars. Wil jij jouw antropologie-gerelateerde evenementen promoten? Of zou jij willen bijdragen aan een volgende webinar? Stuur een mail naar webredactie@antropologen.nl.
---
ABv webinar Activist Teaching
On Thursday 8 December 2022, ABv organises a webinar on Activist Teaching. 
How to infuse students with hope and agency, when teaching about issues of injustice, privilege, and power? How to make options for counterhegemonic action visible in the classroom? Can teaching be a way of doing activism? How can reflexive learning be an avenue for developing "the self" as a site for social change?
This webinar brings four scholars together to explore these questions related to how "activist teaching" can be a way of engaging with feelings of powerlessness that students sometimes encounter when dis­cussing issues of injustice, privilege, and power. Activist teaching combines teaching to think critically about macro-level issues with teaching strategies for social change and engaging in specific, concrete, and tangible forms of direct action. In addition, its commitment to consistent self-reflection is a promising avenue to develop "the self" as a site for social change. In this webinar we explore how such reflexive, critical, and transformative forms of learning and teaching can be practiced and experienced within the walls of the (neoliberal) university.
If you – lecturers, educators, students, activists – are interested in the different dimensions of activist teaching as a way of bridging theory and action, please sign up for the webinar here. The webinar will take place in an informal Zoom setting and there will be enough space and time for questions and exchange.
Speakers:
– Ozan Alakavuklar (Utrecht University, The Netherlands)
– Hanne Bess Boelsbjerg (Aarhus University, Denmark)
– Lina Katan (Aalborg University, Denmark)
– Michiel Köhne (Wageningen University, The Netherlands)
Chair: Elisabet Dueholm Rasch (ABv and Wageningen University, The Netherlands)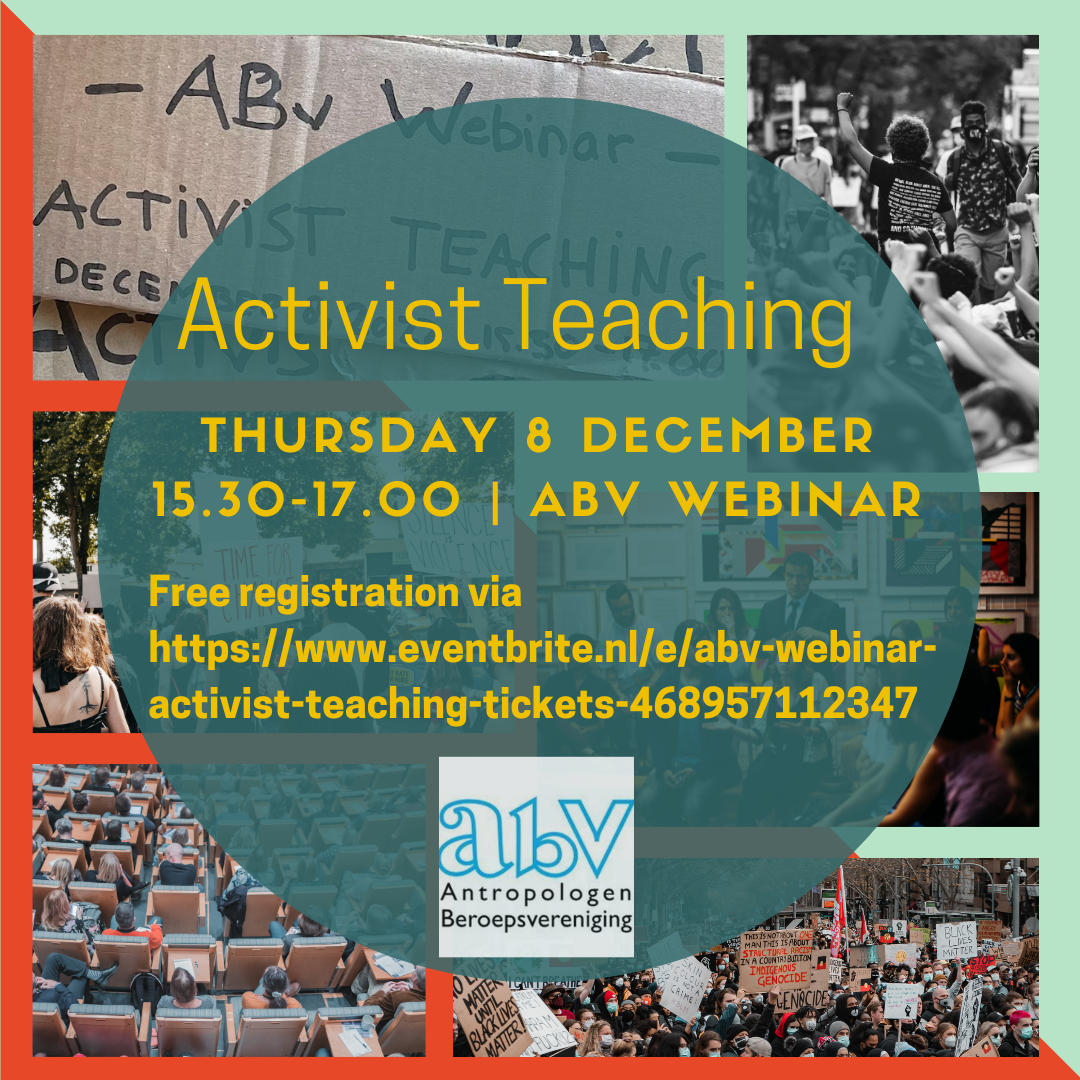 ---
Terugkerende meet-ups
EthnoBorrel evenings offer networking with other professional ethnographers and people who want to work with ethnography. You can present your work, seek advice from peers, discover opportunities, advance your skills, and link up with broader global networks. EthnoBorrel was founded by Erin Taylor and Gawain Lynch in December 2017. Our inspiration was the "ethnobreakfasts" held in the USA and the Ethnographic Praxis in Industry Community (EPIC), which work to forge stronger connections among professional ethnographers, and between ethnographers and industry.
Interbuilding Applied Anthropology Meetup – How do we interbuild applied anthropology: building on each other and building the discipline? Corina Enache, Rosalie Post and Anna Aris are the organizers of meetups for applied anthropologists. In these meetups we: a) share experiences of applying anthropological thinking and working in various fields outside academia, b) think and learn together, ask and provide practical advice and support to each other, c) use the knowledge produced in the group to support the shaping of a "toolbox" for applied anthropology.
---
Archief ABv evenementen
2022 Dag van de Antropologie | Crisis of Truth
2021 ABv Webinar | Anthropologists @ Work
2021 ABv & LaSSA Webinar | Studying and Teaching Anthropology in Times of COVID-19: Experiences and Best Practices
2021 ABv & LaSSA Webinar | Remote Ethnography: Doing Anthropology Digitally [
you can watch the recording here]
2020 Dag van de Antropologie | OtherWise: Conflicting truths in times of climate crisis and neoliberalism [canceled due to COVID-19]
2019 Dag van de Antropologie | Futures
2018 Dag van de Antropologie | Anthropology in Troubled Times
2017 Dag van de Antropologie | Solidarity
2016 Dag van de Antropologie | Understanding migration: hospitality, home and belonging
2015 Dag van de Antropologie | Strijden om hulpbronnen & publieke antropologie
2014 ABv conferentie | Integere antropologie
2013 ABv ledendag | Anthropological Approaches to Governmentality: the State and its Shadows
2011 ABv congres | Toekomstbeelden
---
Via onze Facebook– en Instagrampagina blijf je op de hoogte van actuele discussies, de laatste evenementen, nieuwe boeken en films en nog veel meer. Op ons YouTube-kanaal kan je webinars terugkijken en de 'Antropologen @ Work' blogreeks beluisteren. Interessante vacatures kun je vinden in onze LinkedIn-groep bedoeld voor antropologen. Schroom niet om zelf een bijdrage te delen!