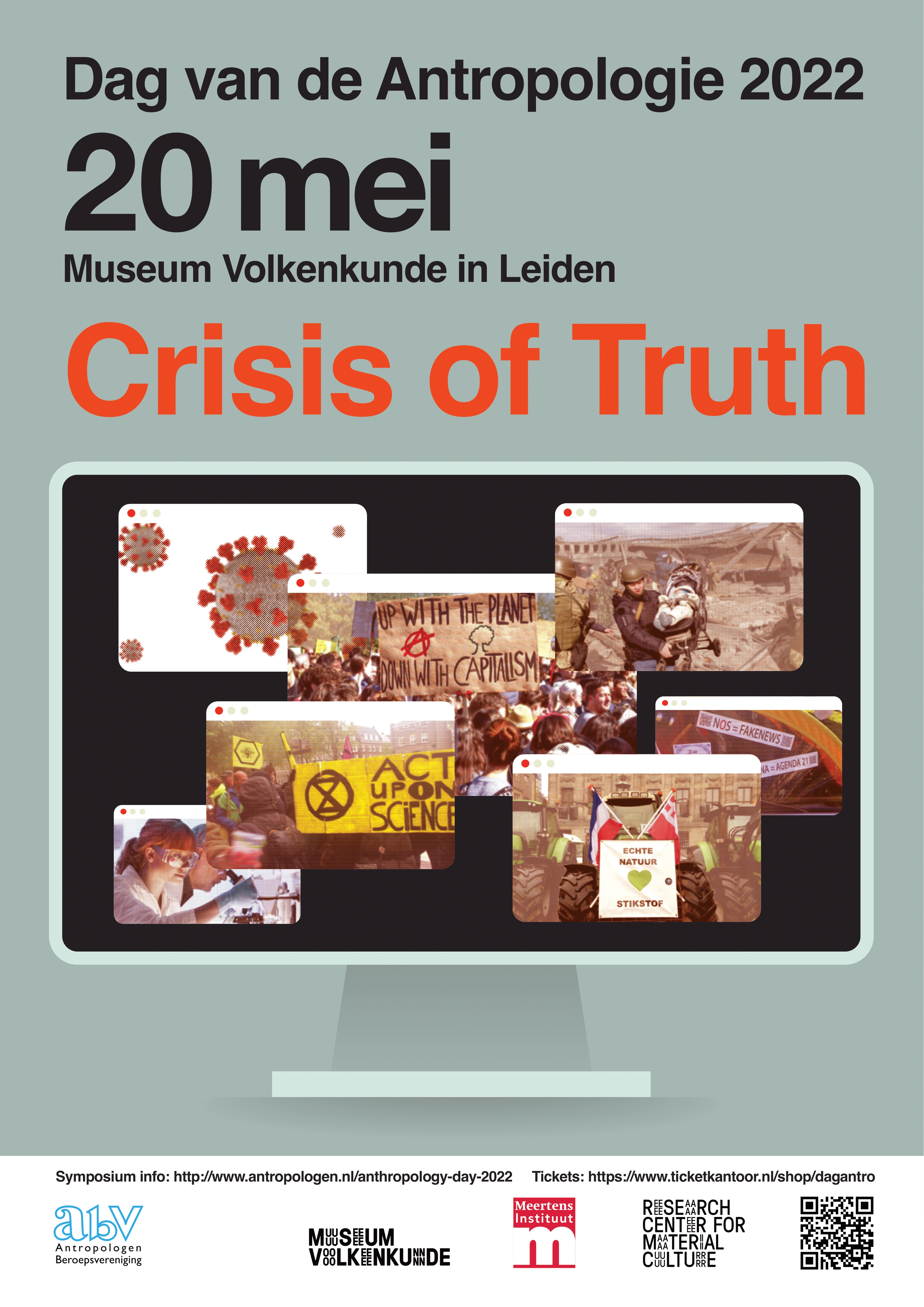 On Friday 20 May 2022 (10.30-18.30), the Dutch Anthropological Association (ABv) organizes its annual Dag van de Antropologie. This year's theme is Crisis of Truth. The Anthropology Day will take place face-to-face in Museum Volkenkunde, Leiden. You can buy your ticket via this link(Ticketkantoor). The ABv is looking forward to welcome you all. During the day there is plenty of possibility to socialize and network with fellow anthropologists.
Crisis of Truth
The covid-19 pandemic and climate crisis bring to light another crisis: a crisis of truth in which old certainties are questioned, in unprecedented ways. Data, scientific facts, Democracy, the Secular, nature, and the human itself are now competing with increasingly aggressive alternative realities. More than ever, scholars find themselves challenged to respond to attacks that question the very foundations of their work.
Questioning truths is not new, the rise of the constructivist paradigm has long since questioned the sciences as producers of 'facts,' and delivered important critiques of various essentialisms such as race, gender, and class. But in the heavily mediatized cauldron of alternative facts, scholarly critiques have become both adopted and hotly contested by pundits from across the political spectrum. Climate science, gender studies, critical race studies, postcolonial studies and – since the pandemic – virology, epidemiology and the medical sciences have become entangled in a mire of alternative facts, accusations of fakery, and outright lies. All this is amplified by the "post-truth" populist politics of the past decade, which in turn thrives on social media and information bubbles created by powerful algorithms. In this context we should place calls for open science, which promote transparency and societal relevance of doing research.
The crisis of truth touches all academic practices yet in different ways. On this Day of Anthropology, we will discuss truth and post-truth in anthropology: How can anthropologists position themselves in this crisis of truth? How can we ethnographically study post-truth politics and audiences? How do we as anthropologists reconcile a notion of truth as contested and as a field of power? What do calls for open science and in particular calls for sharing data mean for anthropologists? What does speaking truth to power mean in a post-truth era and what is the role of anthropological critique and deconstruction?
Program
10.30 – 11.00 Arrival and possibility to meet the board of the ABv

11.00 – 12.30 Opening and keynote lecture 'The frictions and tensions of reorienting ethnography in the post-truth era' (by Bram Büscher; discussant: Rebeca Ibanez Martin)

12.30 – 13.30 Lunch break

Throughout the day: book stall from Het Fort van Sjakoo

13.30-15.00 Parallel panel session 1: 'Accessibility of Science – Student Perspectives' (organized by LaSSA)

13.30-15.00 Parallel panel session 2: 'Follow the Science?' (Annemarie Samuels, Danny de Vries, and Stuart Blume)

15.00 – 15.30 Coffee break

15.30 – 17.00 Round table and closing (speakers to be announced)

17.00 – 18.30 Closing drinks, time to socialize with fellow anthropologists
The frictions and tensions of reorienting ethnography in the post-truth era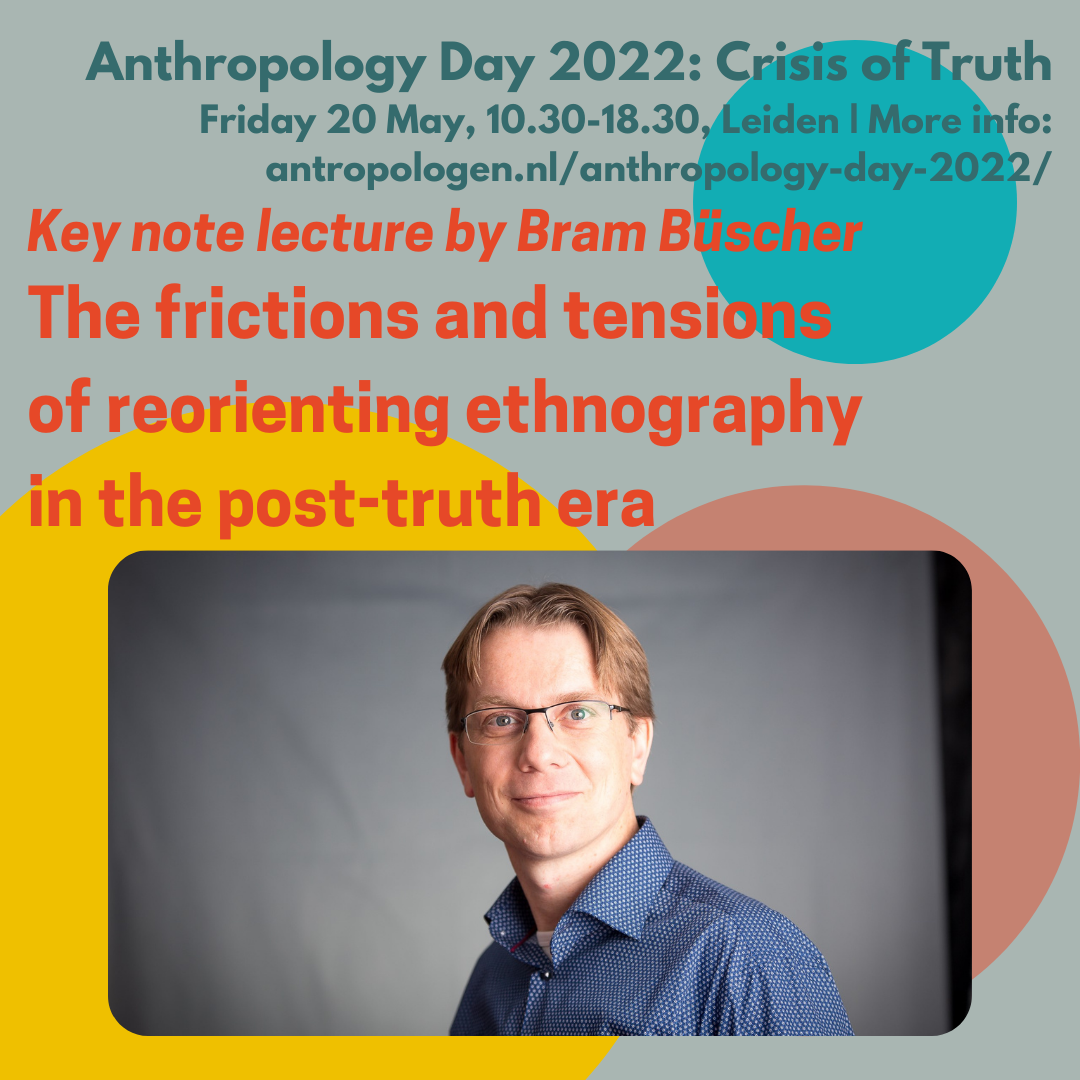 Keynote lecture by Bram Büscher (WUR), discussant: Rebeca Ibanez Martin (UvA, Meertens Institute). 
You can watch the keynote lecture via this link.
It is time for anthropology to (re)claim truth. Or at the very least to render truth productive. The rise of post-truth and the truth of our current socio-ecological predicaments demand this. But how to do so is not straightforward. Recalibrating deconstruction and finding a new balance between epistemic solidities and shifting sands is only part of the challenge. The greater anthropological challenge, Büscher will argue, is finding a new balance between frictions(things that chafe; the 'sticky engagements' of externals, even 'worlds') and tensions(things that stretch, that comprise internal strain, even 'infarction'). The latter, while potentially even more violent, also reorients ethnography towards the question of truth.
To further explore this reorientation, Büscher will develop a political ecology of truth based on three core statements. First: post-truth is an expression of power under platform capitalism, not some updated variant of lies or bullshit. The distinction prods a deeper understanding of changing forms of capitalist power. Second: truth is not just power, but also more-than-power. The combination makes transformation possible. Third: the relations between data, knowledge and understanding are increasingly confused and corrupted. Their reassessment is critical in relearning the art of speaking truth to power.
Bram Büscher is Chair of Development Sociology at Wageningen University and visiting professor at the University of Johannesburg. He published widely on the relations between nature, development and political-economy. His most recent book on environmentalism in the era of post-truth and platform capitalism was published by University of California Press.
Rebeca Ibanez Martin works as a supervisor at the UvA's anthropology department and as a senior researcher at the Meertens Insitute (KNAW). Among others, Rebeca's research topics include animal and human relations, food and nutrition, the body, the anthropocene and sustainability.
Panel 1: Acccessibility of Science – Student Perspectives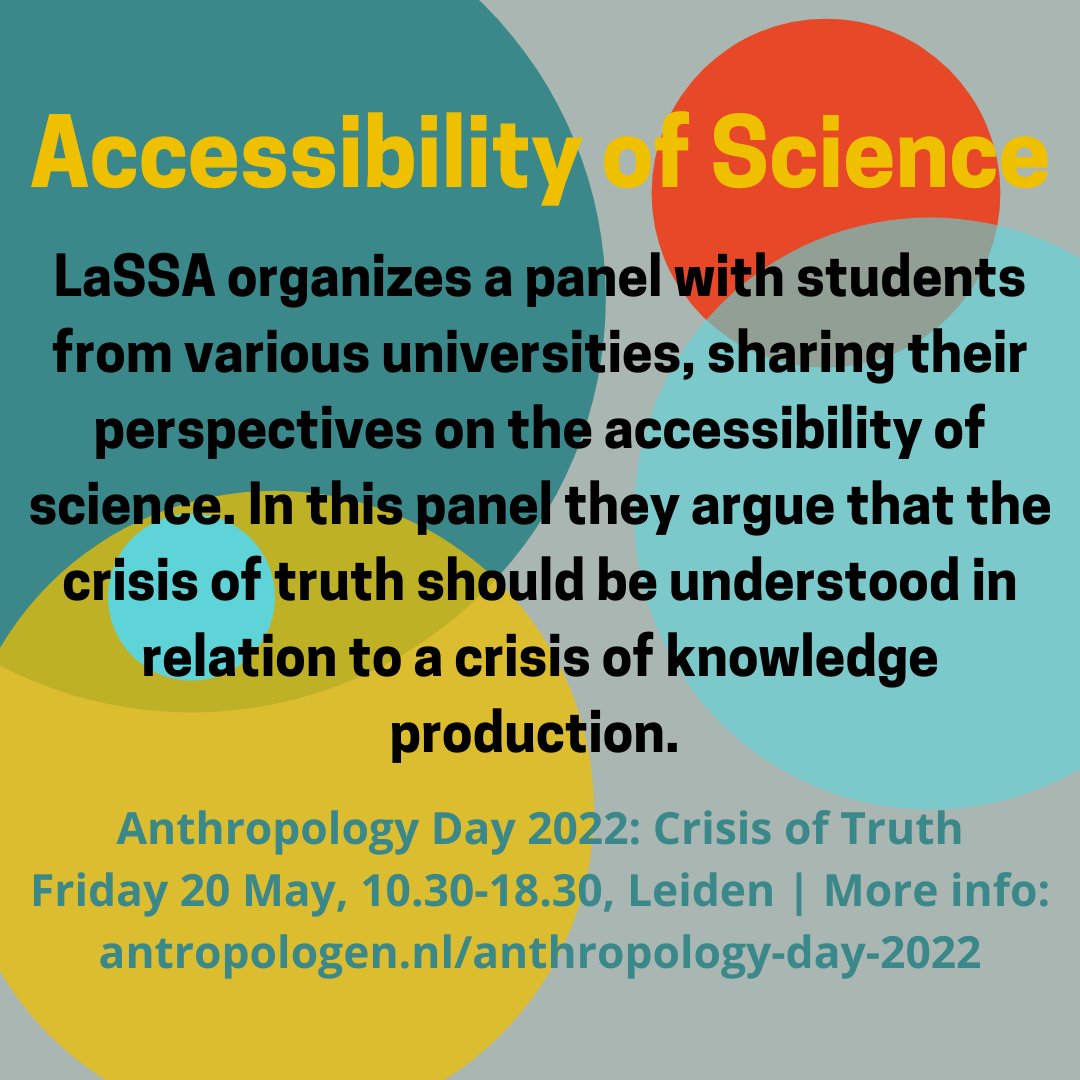 Organized by LaSSA, with Mika Kraft, Miriam van den Berg, Holly Zijderveld, Orestes Kyrgiakis, Machteld Nuiver and Amber Rademaker (convener).
In this panel we argue that the crisis of truth should be understood in relation to a crisis of knowledge production. While much effort is being made in 'opening' science, for instance by providing open access publications, by disseminating scientific knowledge to a broader audience, or by mass enrolment in the universities, knowledge productions remains the domain of a privileged few.
This goes beyond physical accessibility (barriers to enrolment, job opportunities, wheelchair access, et cetera) and includes questions such as the accessibility of scientific language or the (lack of) inclusiveness of terminology. A number of students from Utrecht, Leiden, Amsterdam and Groningen will come together do discuss these questions and more, and of course, all input from the audience is welcome and appreciated.
Mika Kraft is a student of cultural anthropology at Radboud University (Nijmegen) and active in the social democratic party.
Miriam van den Berg is a student of cultural anthropology at Utrecht University and board member of Students of Cutural Anthropology Journal (SCAJ).
Holly Zijderveld is a writer and a student focusing on feminism, media, and her emotions, and she is an aspiring anthropologist hoping to go on to pursue research and creative projects for the rest of her career.
Orestes Kyrgiakis studies anthropology at Leiden University and is student member of the programme committee (OLC).
Machteld Nuiver is an anthropologist and writer with a focus on race, racism and cultural memory at Utrecht University. She is the founder of the Students of Cultural Anthropolgoy Journal (SCAJ).
Amber Rademaker is a student of cultural anthropology at Leiden University and chair of LaSSA.
Panel 2: Follow the Science?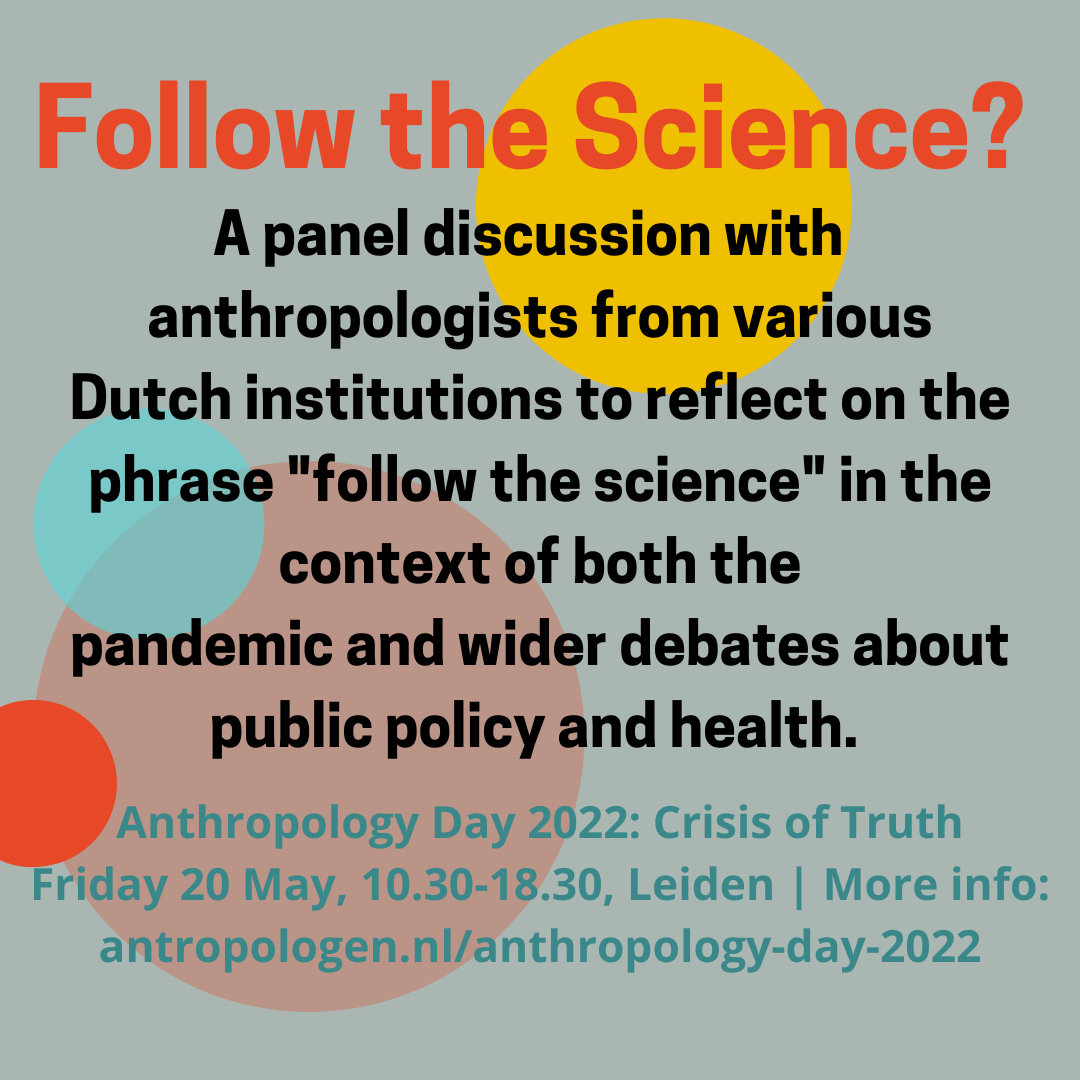 Panel discussion with Annemarie Samuels (Leiden University), Danny de Vries (UvA) and Stuart Blume (UvA), organized by Andrew Littlejohn (Leiden University).
Debates over social and political responses to COVID-19 often feature calls to "follow the science." But which science or sciences should we follow, and how? The virus is a social phenomenon spread through contact between people and tackled by reducing such contact. What and whom we should believe about COVID-19 are also major issues, as injunctions to "follow the science" and scientists themselves highlight. However, when people use the phrase, they rarely mean the social or political sciences, that is, the branches concerned with how people interact, what they believe, and the nature of power (including the power of experts).
Anthropologists have argued for including anthropological and sociological insights regarding these dimensions of human experience into our explanations of the pandemic's origins, spread, and uneven impacts, particularly on low-income groups, communities of color, and people in the Global South. They have also provided critical perspectives on some of the epistemological assumptions implicit in calls to follow the science. As Adams and Nading write, anthropologists have shown how seemingly objective metrics such as case fatality can be mobilized to wildly differing effects in different places and how deliberations over what constitutes reliable evidence are as much social as scientific processes.
In this panel, we seek to further these debates by inviting anthropologists from Dutch institutions to reflect on the phrase "follow the science" in the context of both the pandemic and wider debates about public policy and health.
Annemarie Samuels is Associate Professor at the Leiden Institute of Cultural Anthropology and Development Sociology. Her research interes includes narratives, morality, care, HIV/AIDS and disaster in Indonesia.
Danny de Vries is an assistant professor in the Anthropology of Health at the University of Amsterdam. He was part of the programme group Anthropology of Health, Care and the Body and the Center for Social Sciences and Global Health (SSGH).
Stuart Blume is emeritus profesor whose research has focused on new health care technologies, the history and dynamics of the global vaccine system and the development and uses of technologies for and by people with disabilities.
Round table and closing
With Bram Büscher, Esha Shah, Julienne Weegels and Mika Kraft, organized by Karolien van Teijlingen.
Bram Büscher gave the keynote lecture. Mika Kraft was a panellist for 'Accessibility of Science'.
Esha Shah is an environmental engineer and social scientist at Wageningen University. She researches anthropology, history and philosophy of science and technology using sources from popular culture and (auto)biographical life-writings.
Julienne Weegels is assistant professor of Latin American Studies at CEDLA focusing on the politics of (dis)order and the entanglement of violence with governance, and (state) violence and authoritarianism in Nicaragua.
Book stall: Het Fort van Sjakoo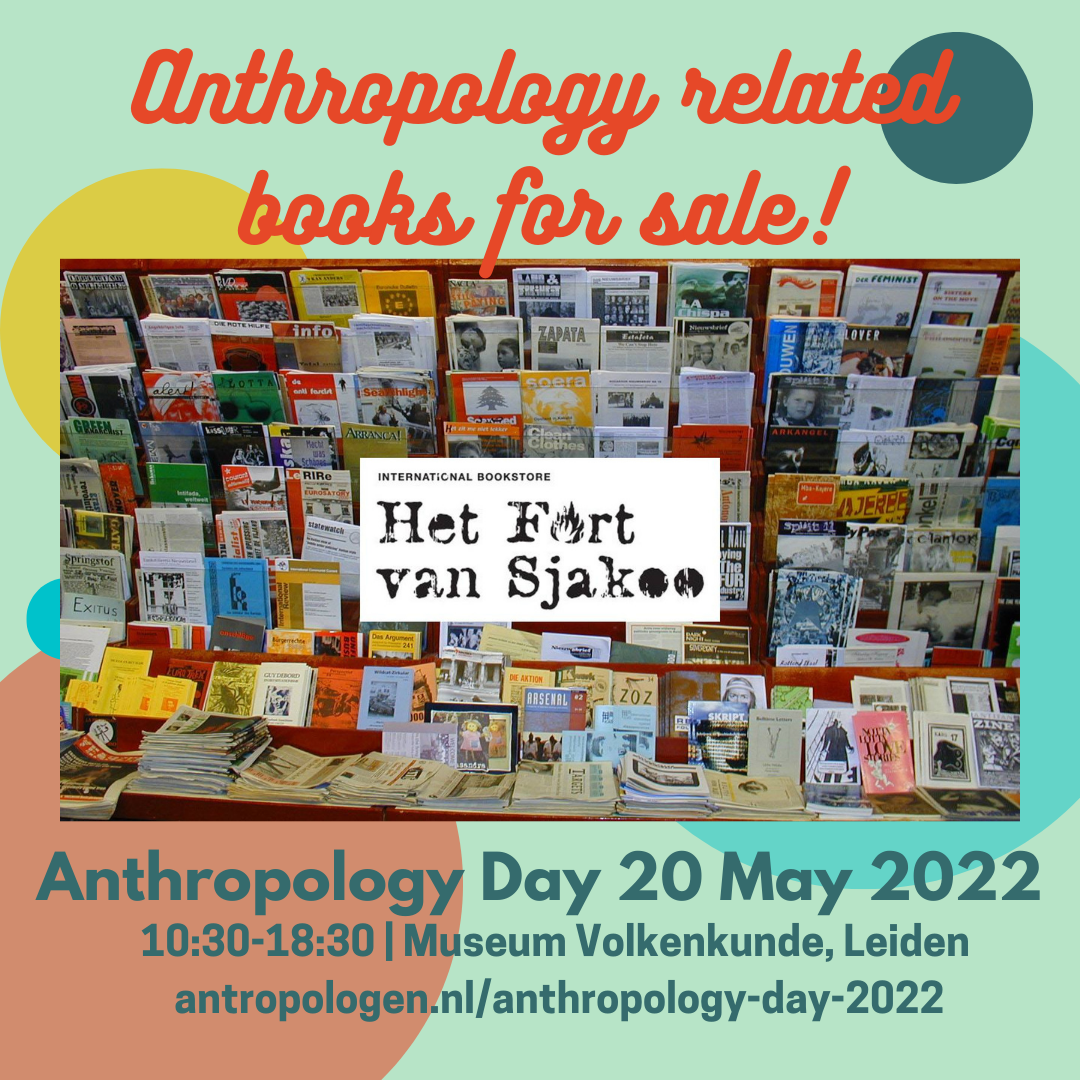 During Anthropology Day, you can buy very interesting books at the book stall from
Het Fort Van Sjakoo
, a great
international
book store in the centre of Amsterdam. Het Fort van Sjakoo sells books in various languages, all related to
anthropology, sociology, social criticism, politics
and many more themes. It's time to get inspired by surprising books!